Marines patrolling streets of Los Angeles...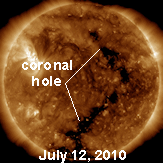 A solar wind stream flowing from the indicated coronal hole should hit Earth's magnetic field on July 13th or 14th.


9 Jul 10 - Fourteen earthquakes have occurred below Iceland's Mýrdalsjökull glacier during the past 48 hours - one within the last 4 hours. Katla Volcano lies beneath the Mýrdalsjökull glacier.
Archeology
mars: cemetery, giant snake/lizard corpse